Retractable Awnings
We sell, install and service selective lines of custom made retractable shading solutions that can make your life more comfortable.
Fitzsimmons Awnings serves Louisville, Lexington, Northern KY and Cincinnati.  We take pride in providing the best quality retractable awnings available.
Our attractive, custom-made shading systems combine pleasing aesthetics with advanced technology to keep your home comfortable and beautiful.
Not only will our systems add to the comfort of your home, they can also help decrease interior fading from damaging UV rays. By choosing a retractable solar screen system, you are sure to enjoy calm, comforting interior environments, reduced energy bills and complete control over your home's lighting and privacy.
Our retractable solar screens are designed to blend with any home décor while providing maximum protection from solar glare and heat gain. We offer a wide variety of designs and styles. We will help you to choose a system that blends perfectly with your home and interior furnishings.
We aim to provide products that are suited to enhance every facet of your daily life. By the simple push of a button — you can enjoy comfortable indoor living spaces and greatly reduce energy bills.
Whether it's to provide shade
Fitzsimmons Awnings not only provides experience and total commitment to our customers, but also has proven results in the area to merit your business. for better television viewing or to allow added privacy in a bedroom or bathroom, you'll find we have the perfect retractable solar screen system for your needs.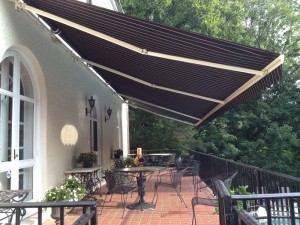 Retractable awnings aren't just practical and stylish, they are also a beautiful asset to your outdoor living.
Our specialty is motorization and automation. We carry only the top of the line products from companies such as Sunbrella and NuImage.
Every retractable awning we sell and install is backed by our outstanding reputation along with a warranty.  We work with home owners, architects, builders, interior designers and automation specialists to make it a more enjoyable experience for our customers.
25 REASONS TO USE FITZSIMMONS AWNINGS FOR YOUR RETRACTABLE AWNING SOLAR SHADE OR INSECT SCREEN
1. Our Customer Satisfaction Ratings
Much of our growth and success has come from customer referrals. Fitzsimmons Awnings customers that have been satisfied with the quality of our product and the service that comes with it, constantly recommend Fitzsimmons Awnings to their friends and neighbors.
2. Approved Products
Our retractable awnings are approved for sales in the United States. Wondering about the competitors' claims?
3. The Industry Leader
Fitzsimmons Awnings sells America's best selling brand of custom-made, professionally-installed shading systems — and it's been that way since 1947.
4. Professional Installation
Fitzsimmons Awnings is a factory trained independent dealer we install your awning on virtually any surface: on wall, under a soffit or roof mount using our custom-designed brackets.
5. Products are Assembled in the USA
Fitzsimmons Awnings awning systems are engineered, designed and assembled with pride in the USA.
6. A Shading Solution That's Right For You
With Fitzsimmons Awnings, you get years of experience, a trustworthy name, a high-quality product and expert local representation.
7. Fitzsimmons Awnings purchase their systems from American manufacturers.
This allows for consistent quality control with assembly in the United States.
8. Fully Factory Tested Products
The quality control at Fitzsimmons Awnings is second to none. We make sure your shading system is fully tested before it ships, providing you long-lasting performance.
9. Listed Motors and Electronics
Our motors and electronics are listed, giving an added level and safety for you and your family.
10. Solar Protection You Can Count On
Our products offer you a better solution to your solar protection needs while providing you cool, shaded comfort and enhancing the beauty and decor of your home. All Sunbrella fabrics come with the American Skin Cancer Foundation recommendation.
11. Your Choices and Options are Varied
Fitzsimmons Awnings is your shading expert they can offer you many options for your retractable awning or retractable solar screen. You can select from a wide variety of product options to create your unique shading system.
12. Professionals Install the Safest Awnings
Fitzsimmons Awnings believes in having experts install your product. Fitzsimmons Awnings has factory-trained experts that will ensure your retractable awning or retractable solar screen is installed safely and securely.
13. Fully Custom Made
No two retractable awnings or retractable solar screens are the same at Fitzsimmons Awnings. Your Fitzsimmons Awnings shading solution will be custom made to your exact specifications and manufactured to fit your unique needs.
14. Maintenance-Free and Self-Storing
Fitzsimmons Awnings custom-made retractable awnings and retractable solar screens are easy to operate, maintenance-free and self-storing when not in use.
15. The Job is Done Right the First Time
When you have a professional from Fitzsimmons Awnings install your new retractable awning or retractable solar screen, you get the most for your money as well as the satisfaction of knowing the job is completed with expertise and experience you can trust. Fitzsimmons Awnings is there to back up its work and to shoulder the responsibility that comes with the job. This is backed by our customer satisfactionion rating.
16. Long-Term Investment
Your investment in a quality long-term shading product, installed by professionals, will prove to be a decision that you and your family will enjoy for years to come.
17. Long-Lasting Fabrics
The materials we use are made with 100% solution-dyed acrylic fabric and are sewn with durable, long-lasting thread. The colors stay bright, resisting the elements and moisture. Fitzsimmons Awnings awning fabrics won't harden, crack or peel.
18. A Professional Stands Behind His Work
When a professional completes the installation, he's there to back up his work and to shoulder the responsibility that comes with the job.
19. Comfort, Beauty and Control
Fitzsimmons Awnings retractable awnings and retractable solar screens offer you the control you need to combine the comfort of the indoor lifestyle with the beauty of outdoor living.
20. A Professional Understands Proper Sizing
A professional's job is to properly size your awning or solar screen for the perfect fit. Doing it yourself or having an amateur size the job can result in dissatisfaction and costly repairs or alterations.
21. Reduce Your Energy Costs
Fitzsimmons Awnings help block the sun's rays giving you up to a 77% reduction in solar heat gain. You can also save up to 25% on cooling costs because an awning can reduce indoor temperatures by as much as 15 degrees.
22. Fitzsimmons Awnings your Local Independent Representatives
Fitzsimmons Awnings will come to your home to provide an expert, no-obligation consultation.
23. No Poles In The Way!
Fitzsimmons Awnings  retractable awning systems are self-supporting and require no vertical supports. The convenience of no poles gives you full use of your space without having any obstacles in your way.
24. Using the Best Materials
We use only the finest materials available from around the world to produce truly superior additions to your home.
25. Why Choose Fitzsimmons Awnings?
Fitzsimmons Awnings is one America's leading independent representatives of custom-built, professionally-installed shading systems. Over 66 years experience coupled with technologically-advanced manufacturing assures Fitzsimmons Awnings customers that they will receive the highest quality products and superb value. Fitzsimmons Awnings backs the claim of superior performance and quality with the best warranty coverage available and top-notch service through the most professional dealer network in the industry.